The loss to the Jacksonville Jaguars was indeed a loss to far where the Houston Texans were concerned and they swung the axe of head coach Gary Kubiak in a lunchtime press conference on Friday.
Team owner Bob McNair made the announcement of firing Kubiak after seeing his team drop to 2-11 on the season, and a franchise record eleventh straight loss. McNair went on to tell reporters that defensive coordinator Wade Phillips will be the interim head coach for the remaining three games of the season, and that Case Keenum will be the starting quarterback in that time.
"Taking action now instead of waiting allows us the process of finding a new coach," McNair said. "That process is under way, and those prospects who are not under contract in the NFL are people we can visit with, so we'll start the process"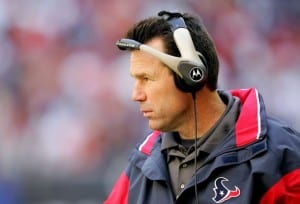 Kubiak leaves after starting as head coach in 2006 and an overall record of 61-64. He turned the franchise around slowly and after a 6-10 record in his first year, they had their best season of 12-4 last term.
This year has been very trying as veteran quarterback Matt Schaub had a torrid time with a never ending stream of turnovers, then losing Arian Foster to back surgery. Kubiak's own health suffered as he suffered a mini-stroke on the sideline during their Week 9 loss to the Indianapolis Colts.