It won't be long until the British American Football season starts, but while the training sessions start up and down the country for the men, the women are already well under way in their own campaign.
Having competed through three weeks of action the Sapphire Series have proved to be a success both on, and off, the field – with games competitive, entertaining, and always played in great spirit.
After the first three rounds of games, split into Northern and Southern sections, the current leaders of the pack overall are the Birmingham Lions. After a slow start to the year they have become a real force and are just ahead of the South section toppers, Kingston.
We were lucky enough to grab some time with the Lions captain Jo Kilby, and asked her just exactly how did she become involved in such a male dominated sport?
"I actually got involved when I was a youngster, with the Birmingham Bulls Youth team, back in the 90s, just for a season – I learnt some of the basics but, of course, didn't really play much, just training with the lads.
"I followed a path of rugby for the best part of 17 years before getting involved in a BAFA Women's Development session last July purely by fluke really – a friend told me about it on the off-chance I might be interested.
"Today I'm the newly formed Birmingham Lions' women's team captain and in the main, apart from playing, I'm helping the University's Lions' management help get the team up and running."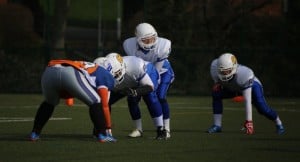 They may be newly formed, but most of the teams are in the position, so just how does Jo see the Women's game progressing?
"The Sapphire Series is the first of its kind for BAFA – an all-kitted women's tackle competition set across a number of tournaments, with a remit to crown a first ever national champion – so it's something everyone wants to win, but from a development point of view it's just important we compete and show progression as a team.
"What many don't realise is that the majority of our team have only been playing football (of any description) since January this year, so it's a big achievement to pull a Lions' lid on and represent – that we're leading the seeding after round 3 is great bonus and not something we anticipated."
However, what about the game's development in the years to come? Jo feels there needs to be a definite stride forward: "It's got to move to 11-a-side for sure – currently we play 5 v 5 which gives players a basic introduction to running, passing, catching, blocking and tackling, and for the stage the sport is at its perfect, but as girls gather more experience they're going to want to challenge themselves against the best in the full version of the game; if as a collective players, clubs, administrators and the governing body as a whole can continue to get behind the sport for women like they have done so far then there's absolutely no reason why we can't achieve a sustained 11-a-side league system in this country with a national team sitting atop of it."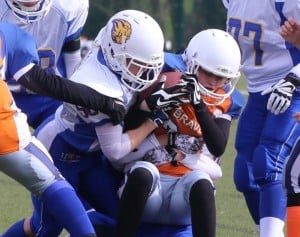 So the ambitions of the Lions, and the league, are strong, but what can be done to help put the Women's game on the map?
"Media coverage and funding, commercial or otherwise; we need to let women and girls know that there are teams out there that they can join, but we also need to give teams the means to get their players playing and that includes provision of kit, access to qualified coaches and, ideally, good facilities but these all cost.
"To kit up a football player we need to provide shoulder pads and a helmet, and there's not much change from £150-200 per player. The player themselves also needs to make sure they have a 7-piece/girdle, boots and a gum shield, and that's £50 or more, even on a stringent budget. The challenge for the Lions, and other teams, no doubt, is how to reduce the financial barriers facing new players whilst ensuring we can pay our way and remain sustainable as a team beyond year one."
So finance is a worry to keep players attracted to play, it's a reoccurring theme across the game unfortunately, but what else is proving to be a hurdle for the game being taken more seriously, both the public and media's eyes from grass roots up?
"It's all about getting the message out that people – girls, boys, men and women, students and non-students – can play American Football in some form or another. The NFL is becoming increasingly popular in this country and we need to capitalise on that, taking arm chair fans and turning them into not just players, but volunteers or officials, an army, as it were, of football participants."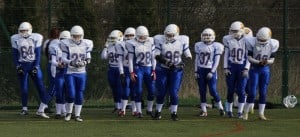 We couldn't let Jo go without asking her personal thoughts on a possible NFL franchise on our shores, and if it would be good for the game here.
"I don't think it's a bad idea at all, I wonder what support it would get if it didn't perform right from the off – we can be a cynical lot us Brits – and the logistics would also be, let's say, interesting, but we'd need to get the right core of players on-board, rather than just NFL or college-cast-offs otherwise competition would be tough for these fellas. Over the course of time it would be fantastic if some actual British players could feature, that would be great for championing our domestic game also and giving top male senior players in this country the opportunity of a lifetime to aspire towards."
Our thanks go out to Jo for her time, and the Birmingham Lions, and wish all the teams the best of luck for the remainder of the season.
Coming soon will be a catch up on the Sapphire Series so far and we will bring you continued coverage of the season in the coming weeks and beyond.
Photo credit: Garry Charles Photography