Last Saturday saw the conclusion of the BAFA Womens Sapphire Series, and it has been praised as a huge success for everyone involved in this inaugural tournament. The standard of play improved with every round and the Finals Day, held at Lichfield Rugby Club, was a perfect way to end the series.
The day started with an open invitation to any new teams wishing to start competing and also any individual that wanted to try their hand in the sport. The response to this was perhaps better than anticipated as teams were represented from the Teesside Steelers, Chester Romans, Nottingham Outlaws and Northampton Titans. With more teams forming in London and the South East, the West Country, Midlands and the North the Sapphire Series will no doubt be expanding in 2015.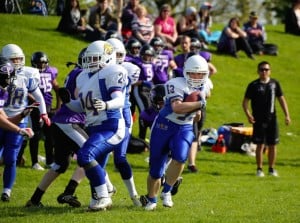 Over the last year the amount of registered female players across flag and tackle football has increased 200%. The game has come a long way since the first Team GB game. It was followed by the Opal, and now Sapphire Series. The next dates on the calendar involve the development into the Diamond Series, which is 11-a-side tackle football) which will follow into Team GB selection. There are also plans for a Team GB flag football team, so these are indeed great times to get involved in the game.
The actual action on the field last weekend saw the Birmingham Lions crowned champions. After beating the Derby Braves 50-0 in the first semi-final, they had a long wait to find out their opponents in the final. This was because the second semi was an epic game which went into overtime. Eventually the Hertfordshire Tornadoes edged out the Kingston Horse 20-19.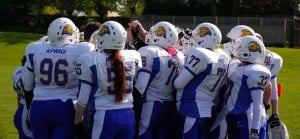 Kingston proved too much for Derby, and claimed third place after a 29-0 shutout. Then in the final itself a free scoring Birmingham were too strong for a spirited Herts team, and the final score of 46-28 was a fitting way to wrap up the days events.
"It was a fantastic day for the Lions and Birmingham University's Women's Programme. We only set the team up in January this year, so to get to the finals, ranked number one, and go on to win the inaugural Sapphire Championship trophy, was a real achievement." said Jo Kilby the teams Quarterback.
She added "We had faith our Offence could keep the scoreboard moving but we knew against Herts that our D would be key in closing the game out – that we were missing our hugely influential line-backer, Phoebe Schecter, meant we had a relatively untested Defence in place on the day – that the likes of rookies Alice Smith and Becky Charles really stepped up was a credit to the teams' ethos and collective will to win."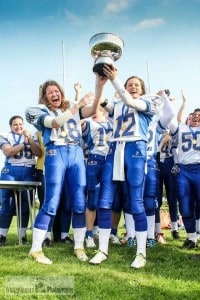 "Massive thanks to our coaches, Head Coach Jamie Kilby and Defensive Coordinator, James Branagh, for giving us the skills, means and confidence to get out there and play, they've been brilliant on and off the pitch with the team all season."
Commenting on the future for the Lions and the Women's game in general, Jo went on, "Well hopefully the majority of our Lions will be getting involved in BAFA's May scheduled Development Days, on the 17th and 31st at the University of Hertfordshire and Lichfield RFC, respectively, with a view to getting the first ever women's 11-aside competition up and running in the Diamond Series."
(Main and last photo courtesy Andy Neale – Whizzyfingers Photography; others Garry Charles Photography)