This Sunday's BBL Cup Final at the NIA in Birmingham has all the ingredients to be a contest that is remembered for years to come.
A repeat of last year's final, Leicester Riders take on the Esh Group Eagles Newcastle in a bid to claim the first piece of silverware in this BBL campaign.
For the 2012-13 treble winning Riders, this time last year marked winning their first trophy since defying the odds to upset the Sheffield Sharks in the 2000-01 playoffs.
From the point of view of Fab Flournoy and his Eagles side, last season saw them drop every title from their clean sweep in 2011-12.
Out of the last five major BBL finals contested, these two sides have met in four of them, and what makes this encounter even more tasty is that it will be their first meeting of the 2013-14 season.
Let's look how the teams have fared so far this season…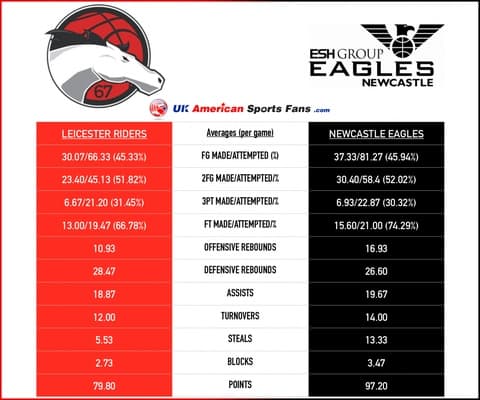 As we can see, Newcastle have been dominate on the offensive boards, whilst Leicester deal with the pressure in their own half of the court very well – so expect plenty of action, determination and fight underneath the basket.
The Eagles have put the ball up more than the Riders, but let's not forget how tough their defence has been in games so far this season; in 13 games the Riders have kept teams below 70 points or less. When you compare that the Eagles have only done that on three occasions, then one would assume that the team who finds their game first could just be the ones coming on top.
However, let's not forget recent events. Mike Black, the replacement for Anthony Downing will not be available for Leicester as his registration with England Basketball was too late for processing. That said, Rob Paternosto's side have the advantage of more game time over the festive period.
Newcastle Eagles have only had two competitive games since they produced the stunning turnaround in the second leg semi-final against Sheffield Sharks to reach this point, however, Leeds Carnegie stepped in this past week to help ease Flournoy's men back into things, which the BBL side duly won 93-61.
Whilst Coach Flournoy has said this final is not about "revenge", there certainly will be a few scores to settle, whilst Coach Paternostro will be determined to begin his pursuit of a Leicester sweep this season with great aplomb.
How each side got to the final:
Leicester Riders
Quarter-finals: Leicester Riders 74 Worcester Wolves 62
Semi-final first leg: Plymouth Raiders 89 Leicester Riders 95
Semi-final second leg: Leicester Riders 104 Plymouth Raiders 77 (Agg: 199-166)
Newcastle Eagles
Quarter-finals: Glasgow Rocks 69 Newcastle Eagles 81
Semi-final first leg: Sheffield Sharks 82 Newcastle Eagles 79
Semi-final second leg: Newcastle Eagles 84 Sheffield Sharks 57 (Agg: 163-139)
If you haven't got a ticket – watch the game live on BBL TV – log on to bbl.org.uk/BBLTV for more details.