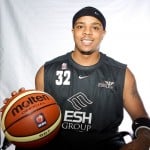 I spoke to Joe Chapman on the first anniversary of the day he collapsed on the Sport Central court with a sickening season ending achilles injury. Some thought he may never play again, more believed he wouldn't return to being one of the League's most dominant players.
Joe was determined to prove them wrong, "Today was an emotional game for me, knowing that it was a year later and I was really just trying to be focused because a lot of people didn't know I could come back to these types of performances. It was a milestone for me to play at a high level again. I'm just trying to prove that I am one of the good players in this League again."
I begged to differ with Joe. He's far more than one of the good players. I suggested that Joe's form of the last few weeks in particular has marked him down as a League MVP candidate.
Joe continued, "Obviously, everyone out there has their individual goals. I've never been awarded player of the month, MVP. Nothing like that. I have a competitive nature and my competitive drive is to show people I'm still in top form even though I had a massive injury."
Joe's incredible three-point shooting record in recent games has included an astonishing 8 from 10 display beyond the arc in Worcester and some huge bombs in the two Trophy semi-final games too.
Joe's face lit up as he's clearly enjoying himself on the court at the moment, "It has a lot to do with my elbow. During the first half of the year, I had a massive bump on my elbow that I had to get drained regularly. So I'm more confident know and so are the coaches and Fab. They tell me what to do in each game, different ways to score and to prepare myself for when I go out there."
Some people may have expected the Eagles to take the Sheffield Sharks game a bit easier with the benefit of a comfortable 32 point cushion but I suggested to Joe that they way the team and he, in particular, started the game it looked like Fab had sent them out with fire in their bellies.
Joe said, "All week it was in the papers that we only won because of things that happened at Sheffield. We still wanted to go out there and prove that whatever happened at Sheffield we're still going to come home and play hard too."
On the twitter and online furore surrounding the first leg in Sheffield Joe was clearly upset at some of the allegations and spoke not only for himself but his team mates too, "That's unfortunate that these things happen and we can't determine who plays or not. We've just got to go out and play our game and it kind of hurt our feelings that a lot of things were said like we don't have a great team and this was one of the worst teams in six years in Newcastle. We just get motivated by that. People don't think we hear that but we do."
I suggested a good way to silence the cyber critics would be a clean sweep for Newcastle Eagles this season and that there doesn't really look like any team in the BBL that can live with the Eagles.
Joe was modest but he has the glint in his eye of a man who has confidence in his team, "Well we've got a veteran team and we're taking it one game at a time. Obviously we've got Plymouth Raiders again in the Trophy final and we know that the result in the BBL Cup Final means nothing and we have to go out and prove it all again that we're in top form and shape. Even when we win a game we have one and two hour film sessions assessing our performances. That's what's driving us right now."
For me the two legged final in the Trophy suits the Newcastle Eagles. A one-off game has the potential for a shock result but a two-legged affair favours the stronger side.
Joe agrees, "I don't think basketball is a two-legged sport. If they're going to have it then the atmosphere in our Arena is unbelievable and I guess that makes it harder for anyone else to come to our gym and win. We have very tough rims to play on too! We have the biggest crowds too."
Joe's rehabilitation is the feel good story of this year's BBL. There's been a lot of negativity and plenty of column inches badmouthing the BBL recently but if you're a basketball fan the site of Joe sinking a three from way downtown is a thing of great beauty. British Basketball fans should be thankful he's back and he's better than ever. The MVP in waiting?
Follow Darrin Smith on Twitter at OleDJ