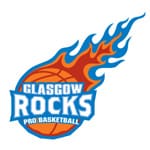 The Glasgow Rocks have signed 6'4″ Danny Huffor for the 2011/12 BBL Season. Huffor was born in the USA, however, with his family ties stretching to Glasgow, he has attained a British Passport, therefore allowing him to play for the Rocks this season.
Huffor has been renowned for being a great athlete throughout his junior career with his initial sporting choice being that of American Football. Huffor, however, found his calling in basketball and soon found himself at Newbury College, where he averaged 8.8 points and 2.9 rebounds a game.
Coach Davis is hoping that Huffor can step up to the professional level in a short amount of time.
"I saw Danny play for the first time this summer in Las Vegas. He really did a good job of holding his own against some very talented players at the summer camps.  With his ties to Glasgow in his grandparents, we thought this would be a very good fit for both parties.  He could potentially be a factor in our plans sooner rather than down the line."
Huffor has been training with the team in the lead up to the first games of the season. He had the following to say about his time with the Rocks at present.
"So far everything is going well, the team is in its initial phases and we are still trying to get used to one another's playing styles, but I am sure that will come with practise. I am excited for the season ahead and I greatly appreciate the opportunity to play for the Glasgow Rocks and I will do everything I can to make it work."
Rocks fans will get their first glimpse of the team on September 18th when the Rocks host their first Official Camp of the new season and also stage a Meet the team event straight after the camp.
This will be closely followed by the Rocks Pre-Season fixture against the travelling USA Select basketball team on the 19th September, with the tip-off scheduled for 7:40pm.